This article will walk you through the moving pieces of creating a funnel in the business center.
DIGITAL MENTORS MEMBERS:
If you would prefer, you can view a video walkthrough course for creating marketing funnels in your Business Center Academy here.
The business center allows you to create funnels with all sorts of different goals. From lead generation to sales funnels, watch the video below to get a better understanding of funnels in general, and then we'll dive in to how to create them yourself.
In This Article
Funnels allow you to connect multiple landing pages, or 'funnel steps' in to a specific order, creating a journey that leads a user to a specific goal. For example, lead generation funnels contain (by default) an Optin Page, that sends the user then to a Thank You Page.
Creating a Funnel in Your Business Center
Click on the Marketing tab in your navigation, and then click on Funnels

Click on the blue 'Add New Funnel' button

Enter in the Funnel Name. (This is for your eyes only, nobody else will see it)

Edit the Funnel Stub and domain
NOTE: The funnel stub is what will appear at the end of your domain and will be created automatically based on your funnel name. The domain can be changed as well if you have gone through the process of adding your own custom domain.
Once completed, you will see the Funnel Creation Options. You can choose to use one of our done for you funnel flows (Like Lead Magnet Funnel or Sales Funnel) or create a blank funnel from scratch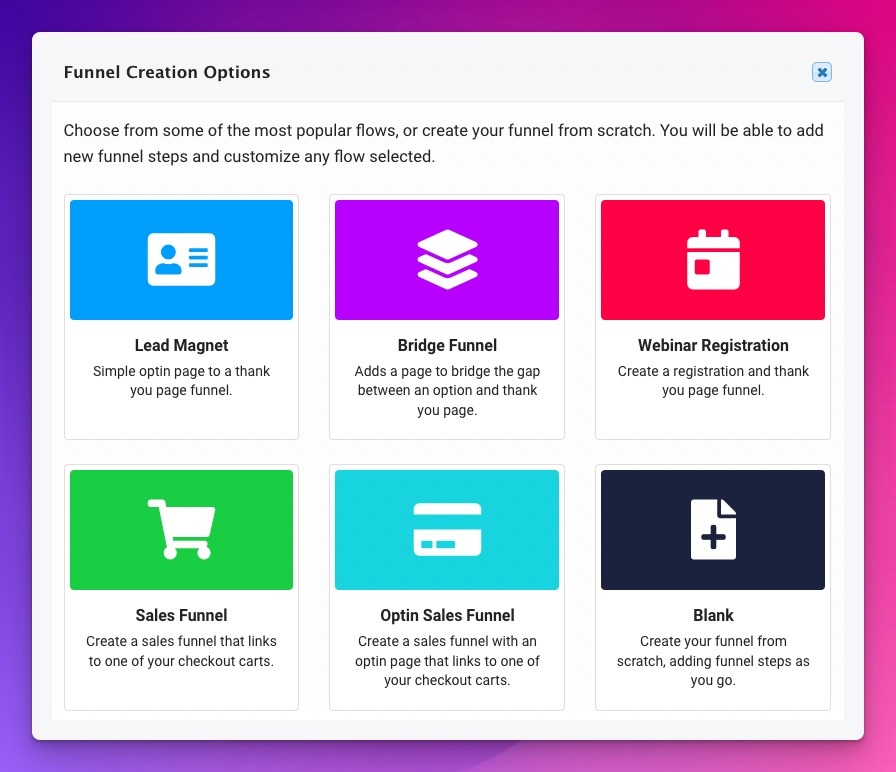 Once you have selected a funnel flow, you will be sent to the Funnel Editor. If you chose a done for you funnel flow, you will see the existing steps recommended to complete that funnel already created for you.
Using the Funnel Editor
In the Funnel Editor, you have 3 tabs. Funnel Steps, Funnels Settings and Funnel Statistics.
Funnel Steps
Funnel steps is where you will access and create the individual steps in your funnel. It's also where you will access the page builder to create, design and customize the your funnel steps.
Learn More About the Funnel Steps Tab
Funnel Settings
The Funnel Settings tab is used to edit the funnel name, adjust the funnel stub (not recommended once you've begun marketing your funnel) and turn on Funnel Sharing if you wish to share your funnel with other Business Center users.
Learn More About the Funnel Settings Tab
Funnel Statistics
This tab will allow you to see the stats and tracking for each step in your funnel so you can see how well each step is doing in terms of conversions. Use this data to tweak and improve your funnel as you continue with your marketing.