Your DigitalMentors Profile Settings by default, for the most part, is set up based on your sign up information. This article will go over a few additional options and what changes you can make.
To Access your DigitalMentors profile you will go to the top right hand corner and in the drop down box select "My Profile". Account Profile Settings

Setting up/Editing your Profile
As most of this is already set up, here you can make any necessary changes. Your Avatar is what you will have to set up, if you choose (highly suggested).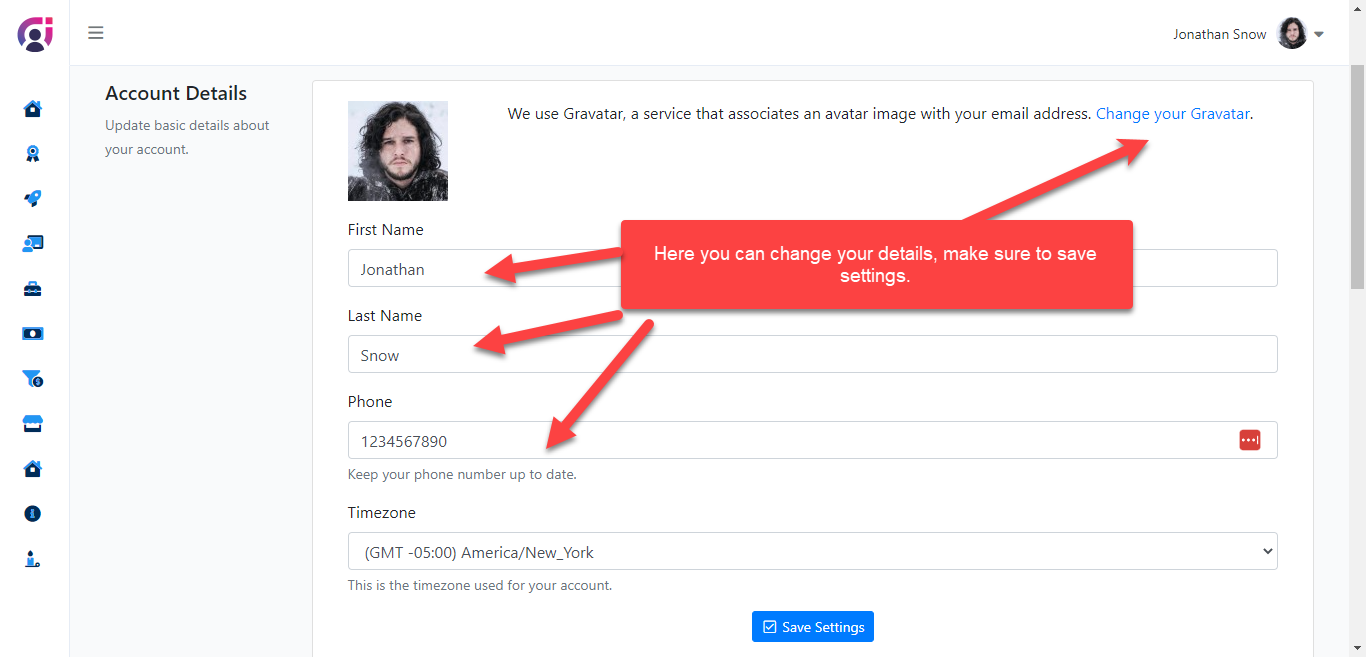 Avatar
This is where you can add your profile picture that will be displayed on some of your websites. We use a service called gravatar.com. When setting this up be sure to use the email associated with your Digital Mentors Account.
Gravatar makes it very easy to set up your profile picture. Follow the link under My Profile Settings to their site, (https://en.gravatar.com/site/login). Once there, select "Log in / Sign up" > "Sign up" and enter the same email address that is linked to your MLSP account
They will first send you a confirmation email, to ensure you have access to (and ownership of) the provided email address. When you click on the confirmation link in the email, you'll be walked through the few steps to set up your Gravatar account. It doesn't cost anything -- you'll just need to set up a username and password.
Once set up, you'll be informed that you don't have images yet -- that's fine, as that's why you're there. Select the link at the end of the statement "Whoops, looks like you don't have any images yet! Add one by clicking here," select where you'd like to upload your photo from (your hard drive, on another site, from your webcam, or a photo already loaded to your Gravatar account.
Gravatar will walk you through the rest of your steps, including cropping the image if necessary. If you run into a snag along the way, be sure to take advantage of Gravatars help menu and Frequently Asked Questions.
Here you can change your username, email and password.

When changing your username (account identifier), this will also change your affiliate links in your DigitalMentors account (Not Business Center), under your affiliate tools > affiliate links. If you have already marketed your previous links, those will be invalid if you change your username, therefore you would have to update them.
When changing your email address, you will be asked to enter your new email as well as your account password. This will verify that this is your email and it's valid. Leave this window open and a verification code will be sent to your "New" email. You would then copy the long verification code and enter it in your profile settings in Digital Mentors where it asks, and update. You are not able to use an email that has already been used in the Digital Mentors Data Base (if you have had a previous membership).
To change your password, enter in your current password, and new password twice and save changes.
Privacy Settings
By default these settings are disabled. This section is self explanatory. If you choose you can enable these settings.