In this article, we'll show you how to manage and monitor your subscription.
Under your account settings (top right hand corner) , in the drop down you will see "Membership Plans".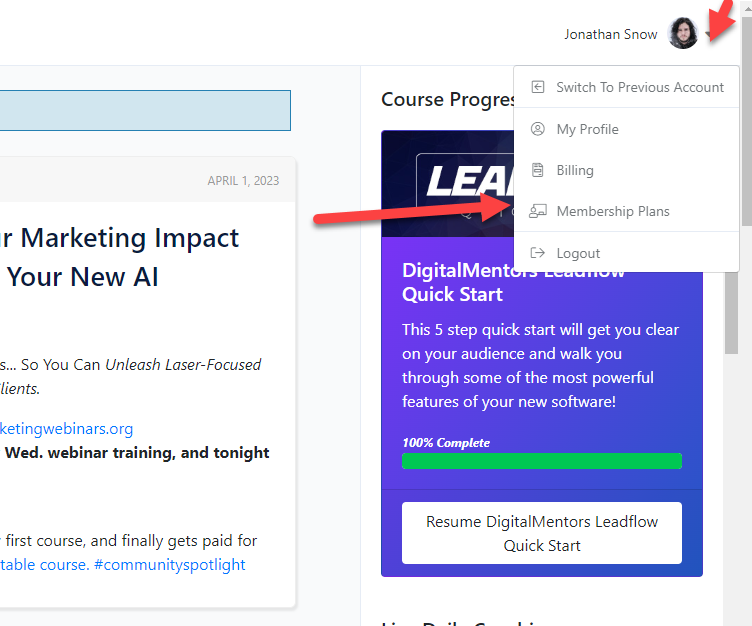 Under the "Membership Plans", you can see when your next payment is due, the amount and level you are at. **NOTE** The amount, date and level shown is only an example.

If you have canceled your account it will show "cancelled" by the membership level.
If you click on the link "Billing Settings" it will take you to your Billing information where you can see your list of invoices, manage your payments and go to your subscriptions.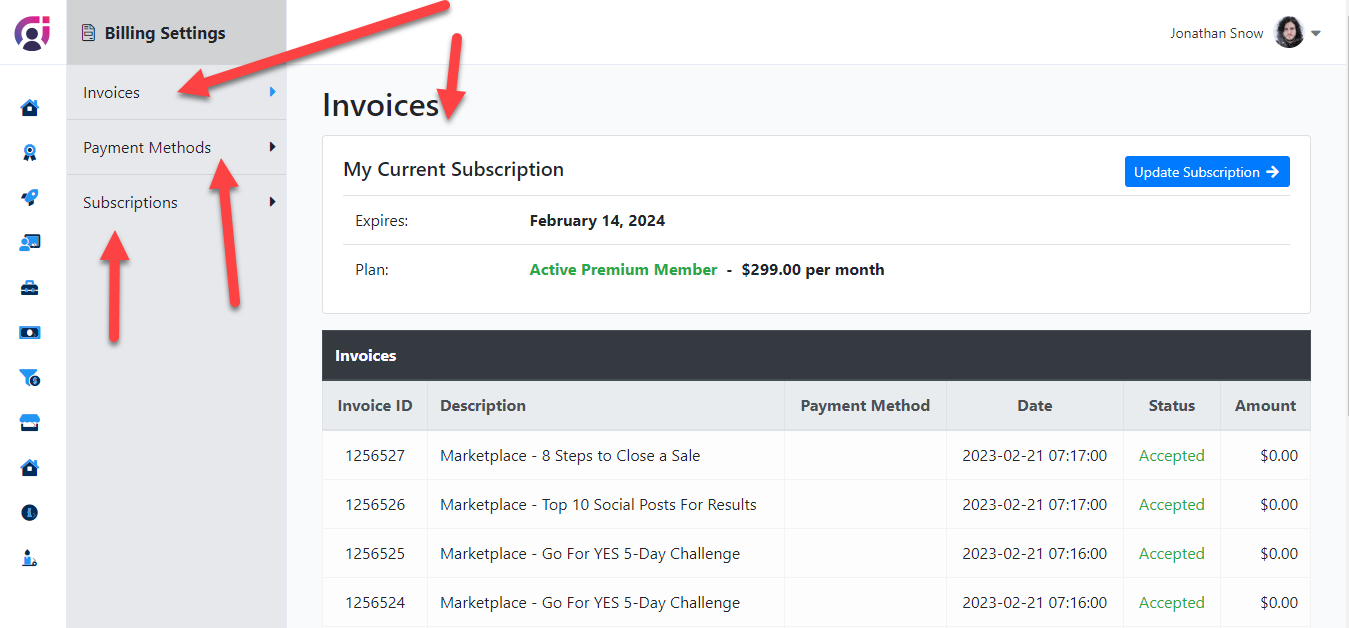 Alternatively you can access your billing from the profile settings (top right hand corner).
You can also scroll to the bottom of your membership page to manage your subscriptions where you can cancel/park/upgrade/downgrade your account.
See > https://support.digitalmentors.com/en/articles/3437935-account-status-changes
If you want to cancel, park or reactivate your account, click on change subscription status, then select cancel, park, or reactivate from the drop down box and next page.
IMPORTANT: Please ensure you complete the remainder steps right to the end, DO NOT hit the back button as this will cancel the process. If you are cancelling you will get a confirmation cancellation to your email.
Subscription Payment Schedule
Regular Membership payments are recurring every 30 days. These are clearly explained in all the terms and conditions that members agree to.
Currently we offer Free, 14 & 30 day trials, (trial offers are subject to change). The length and level of a trial all depends on which link you use to sign up with. After a trial ends, the system will immediately process the regular membership fee, the amount depending on what level you are in. Membership fees will automatically recur every 30 days unless cancelled.
Note** As payments process every 30 days, the day of the month may alter, depending on how many days there are in a calendar month, ie 30, 31, or 28. Therefore if your 1st payment processes on the 5th, and the month has 31 days, the next payment will be due the 4th of the following month.